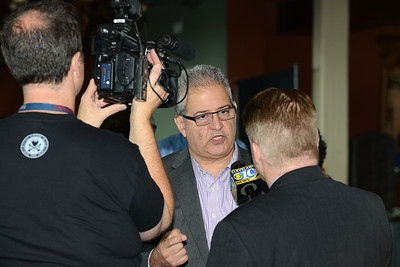 Timothy Dimoff | National Expert
10/02/2017 | News5 | Local Security Expert Says Las Vegas Shooter Had Previous Experience with Weapons
Dimoff strongly believes Paddock had previous experience with weapons 
"Definitely good experience in previous police, military, hunting that type of person. This wasn't someone who grabbed a gun for the first time," Dimoff said.
10/02/2017 | 3WKYC Jim Donovan Show | Protecting Yourself and Your Children Part of Complex Issues After Las Vegas Shooting
"In these types of situations, stay low and move, and if you do move in a zigzag manner toward something that can protect you," said security expert, Tim Dimoff.
09/26/2017 | News5 | Woman Fights Off Attacker in Public Square Parking Garage
"If you're not paying attention, or you're alone, you have a higher rate of being a victim," said security expert, Tim Dimoff.
09/17/2017 | Cleveland Patch | Family Remembers Man Killed By Stow Police, Says Death was Avoidable
"Shut the door and let him stay in the cruiser until you have some safe assistance," said Timothy Dimoff, a former SWAT officer who regularly testifies as an expert witness in court cases. "When you're involved with the mentally disturbed, you need to have other officers there before you continue."
09/11/2017 | Experts.com| Medical Marijuana Concerns for Employers
Medical marijuana is now legal in many states and many other states are considering legalizing it. This creates a host of issues and questions, legal and otherwise, that employers must address.
08/29/2017 | Cleveland19News| Akron Police Avoid Specifics Regarding Teen Who Killed Himself in Cop Car; Cleveland 19 Pursuing Answers
"Pat downs are not the easiest thing to do, they're not the most efficient thing, 100% efficiency, so it's not a surprise to me that we have instances periodically where a weapon is found later on," said Dimoff.  "Short of a strip search you've got no 100% guarantee of finding anything."
08/08/2017 | 21WJMJNews| Former Tim Ryan Office Employee Fired Amid Investigation
An Akron area security expert believes authorities are likely digging into what files they could have accessed. "It's crucial to know currently if any of those devices have information on it," said Tim Dimoff, SACS Security. Dimoff believes authorities will have to re-trace the steps of the subjects under investigation to determine if any possible criminal activity took place.
07/24/2017 | WKNB FirstNews | 'He's the Only Thing Moving:' High-Security Set for Trump Visit
Trump's visit will also mean delays for the area. Drivers will be detoured from routes the president will travel throughout the day. "So the restriction is wherever he goes, nobody else goes," Dimoff said. "He's the only thing moving."
07/24/2017 | News5 | Medina County Sheriff's Office: No Other Person Other Than Bryon Macron was Involved in His Death
Dimoff said he is familiar with the Macron family and what they think about the investigation. "The family just doesn't believe he would commit suicide," he said.  He said he agreed months ago when information was first released. But after seeing the new details released Monday he's changed his mind.
07/18/2017 | Akron Beacon Journal/Ohio.com | Akron-Area Churches Taking Steps to Heighten Security; Event Being Offered to Teach Faith Leaders More About Reacting in a Crisis
"We're seeing more and more houses of worship of different faiths being targeted," said Dimoff, a former Akron officer. "They have a very open atmosphere. They offer accessibility to get into buildings and events. And, this has not traditionally been limited or with a strong security presence."
Tim is Available for Media Interviews
Please feel free to call 330-730-3524 or email Tim at [email protected] if you would like to schedule a time for him to interview with your TV, Radio or Newspaper reporter. He is available 24/7.