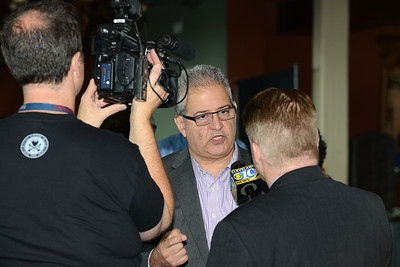 Timothy Dimoff | National Expert
5/10/2019 | Richland Source | Expert Cautions Local Manufacturers About Workplace Violence Trends
"We all are busy, we all wear hats. We're all moving fast. The problem is this, we're so busy and slammed that we managed by big fires, but we need to go back to managing by small fires," Dimoff said. "Small fires are when you start to hear these clues about something going on -- two people not getting along, someone getting harassed, someone that's upset.
2/8/2019 | ClevelandJewishNews.com | Project Love Celebrates 25 Years of Anti-Bullying Work
"In this school year, we have reached 233,000 students," said Tim Dimoff, chairman of the foundation board. "This is the first year that we are in 50 states, three countries."
1/13/2019 | WKSU | Nostalgia, Curiosity Draw Hundreds to Tour Tunnels Under Akron
"They're definitely a spiritual type of experiences.  And the unique thing is, they've all been positive. I think because this is almost 150 years of dedicated people, happy people, hardworking people who worked here.  And that positive energy got absorbed and some of it's still here." - Timothy Dimoff
12/2018 | SuccessIsAChoicePodcast.com | Episode 101: Tim Dimoff, Security & Workplace Expert
This podcast explores:
Being selected to provide security for the 2016 Republican National Convention

Addressing the school shooting situations

How to organize and run events safely

Safety and security in organizations and businesses
12/12/2018 | KFVS12News | Social Media, Public Tips Become Powerful Tools for Law Enforcement Trying to Stop Terrorists
"A lot of people share stuff on social media, and that includes criminals and terrorists, and they share things - they may not share the big things - but they share enough of the little things though that they are doing or planning or talking or thinking about, and those little things are like pieces in the puzzle - maybe small pieces, but when you start to put them together, they start to tell a story."
12/7/2018 | Cleveland19News | Security Expert Says Working Street Lights Could Have Helped Prevent Theft from the Boys and Girls Club
11/14/2018 | News5Cleveland | Ohio House Passes Controversial Changes to State's Deadly Force Laws
"We think retreat is a weakness to the self-defense and can send the wrong message to the aggressor," Dimoff said.
Dimoff also added that in his research, deadly force is rarely used. "The majority of cases — and I would call that over 90 percent of cases — the person has removed and exposed their firearm and in those cases that was the end of the aggression," Dimoff said.
11/8/2018 | WKYC3| Preparing Yourself for Emergency Situations
"The biggest problem we have is, everybody goes for the familiarity and that would be the front door exits," says Dimoff. He says you should walk around before even sitting down at a bar or restaurant to find out how many exits there are and where they are.
10/31/2018 | News5Cleveland | Security Breaches at Airport? City Won't Say Citing "Security" Concerns
"It's very important that security procedures have no exception," said Dimoff, "and any time you have an exception, you open the door for additional exceptions to happen."
10/31/2018 | News5Cleveland | Limited Safeguards to Stop Duped Residents from Sending Money to Con Artists Overseas
Dimoff says if a customer wants to take out a loan or send money, those businesses have to let you do it. He says that means the best way to stop scams is to make sure enough people know how common they are.
Tim is Available for Media Interviews
Please feel free to call 330-730-3524 or email Tim at [email protected] if you would like to schedule a time for him to interview with your TV, Radio or Newspaper reporter. He is available 24/7.