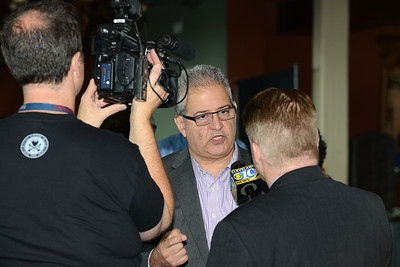 Timothy Dimoff | National Expert
9/6/2018 | Cleveland19News | Confronting Active Shooters Key to Collective Survival -- What You Need to Know
No two active shooter situations are going to be the same, but research now shows, Dimoff says, that hiding or taking cover may not be your best option.
8/1/2018 | Cleveland19News | Sexploitation Scam Startles People After Stolen Passwords Appear on Emails
"It's really electronic blackmail," cybersecurity expert Tim Dimoff said. "This is a very well-structured blackmail. Boy, it looks believable."
5/21/2018 | WWL-FM | What Can be Done to Make Schools Safer
Solution to the problem isn't the weapons, NRA debate ... we are failing to stop it at the door with proper physical security, monitoring social media channels and getting mentally ill people the help they need.
5/4/2018 | WKYC3 | Private Investigator Tim Dimoff Talks About Taylor Robinson Murder Case
"We've narrowed it [suspects] down to potentially two different people...there are other people out there that know something that can fill in the missing pieces...sometimes time eases the stress for these people to come forward."
4/29/2018 | The Business Journal |Businesses Armed with Prevention at Active Shooter Conference
More needs to be done to identify and intervene early, Dimoff urged. From reviewing nearly 400 active shooters, one common denominator he discovered is they often signal their intentions.
"We've got 95% of the shooters telling people – friends, students, co-workers, parents what they're feeling and what they want to do and how they're going to do it," he said.
2/23/2018 | WWL-FM | How Can We Make Our Schools Safe
I hate to see the this tragedy [Lakeland Fl school shooting] turned into a gun issue only. Violence must be stopped at the door... Feds must share info with the local police if they aren't going to follow up on the tips.
2/19/2018 | News5 | Spike in Armed Robberies at Stores, Restaurants Across Cleveland Raise Concerns Among City Leaders
Major corporations like Subway and Family Dollar can make security improvements by keeping front windows free of numerous advertisements and promotions.
Dimoff said limiting cash in registers would also make a difference, along with posting signs that there is limited cash on hand.
12/018/2017 | News5 | Mogadore Identity Theft Victim Battles Huntington Bank for Refund 
A PIN can be stolen by a camera on a skimmer.
"They put a little, miniature camera that's battery-operated, so that camera, you put the card in and it's copying the card information, and the little camera is capturing you punching the numbers in," Dimoff said.
"There's no privacy on the outside, once you leave your home... anything that happens in public is no longer private". Timothy Dimoff
12/02/2017 | News5 | Car Thieves Use Technology to Steal Cars with Key Fobs and 'Push to Start'
"Everybody should be made aware that if you do have a fob, it can be copied, regenerated and utilized," said Dimoff.
"What you're doing is taking the key signal, boosting it, and sending it to another booster.  That booster then works on the car."
Tim is Available for Media Interviews
Please feel free to call 330-730-3524 or email Tim at [email protected] if you would like to schedule a time for him to interview with your TV, Radio or Newspaper reporter. He is available 24/7.