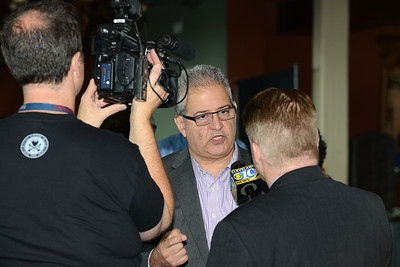 Timothy Dimoff | National Expert
2/23/2017 | WWL-FM | How Can We Make Our Schools Safe
I hate to see the this tragedy [Lakeland Fl school shooting] turned into a gun issue only. Violence must be stopped at the door... Feds must share info with the local police if they aren't going to follow up on the tips.
2/19/2017 | News5 | Spike in Armed Robberies at Stores, Restaurants Across Cleveland Raise Concerns Among City Leaders
Major corporations like Subway and Family Dollar can make security improvements by keeping front windows free of numerous advertisements and promotions.
Dimoff said limiting cash in registers would also make a difference, along with posting signs that there is limited cash on hand.
12/018/2017 | News5 | Mogadore Identity Theft Victim Battles Huntington Bank for Refund 
A PIN can be stolen by a camera on a skimmer.
"They put a little, miniature camera that's battery-operated, so that camera, you put the card in and it's copying the card information, and the little camera is capturing you punching the numbers in," Dimoff said.
"There's no privacy on the outside, once you leave your home... anything that happens in public is no longer private". Timothy Dimoff
12/02/2017 | News5 | Car Thieves Use Technology to Steal Cars with Key Fobs and 'Push to Start'
"Everybody should be made aware that if you do have a fob, it can be copied, regenerated and utilized," said Dimoff.
"What you're doing is taking the key signal, boosting it, and sending it to another booster.  That booster then works on the car."
11/08/2017 | Cleveland19News | Amazon Key Now Available in Cleveland
However, Dimoff said he's hopeful for a few reasons, including the Cloud Cam Amazon uses with the system.
"I think the fact that they're monitoring it with a camera, that's the whole difference. If they were doing this without that camera monitoring, then I would tell you this is a very unsafe direction to go," he said.
10/05/2017 | News5 | Surge in Security at Indians Playoff Game Following Mass Shooting in Las Vegas
Dimoff says Sunday's mass shooting changed everything. When events are held at open air venues like Progressive Field, police now have to check surrounding buildings, in addition to securing the stadium itself.
"They're going to start to monitor the buildings, who's going in those buildings and any kind of unusual behavior such as someone on a roof, windows being opened, those types of things," said Dimoff.
10/02/2017 | News5 | Local Security Expert Says Las Vegas Shooter Had Previous Experience with Weapons
Dimoff strongly believes Paddock had previous experience with weapons 
"Definitely good experience in previous police, military, hunting that type of person. This wasn't someone who grabbed a gun for the first time," Dimoff said.
10/02/2017 | 3WKYC Jim Donovan Show | Protecting Yourself and Your Children Part of Complex Issues After Las Vegas Shooting
"In these types of situations, stay low and move, and if you do move in a zigzag manner toward something that can protect you," said security expert, Tim Dimoff.
09/26/2017 | News5 | Woman Fights Off Attacker in Public Square Parking Garage
"If you're not paying attention, or you're alone, you have a higher rate of being a victim," said security expert, Tim Dimoff.
Tim is Available for Media Interviews
Please feel free to call 330-730-3524 or email Tim at [email protected] if you would like to schedule a time for him to interview with your TV, Radio or Newspaper reporter. He is available 24/7.